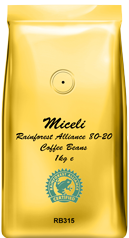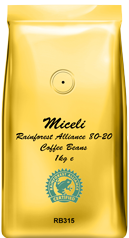 Miceli Rainforest Alliance 80-20 Coffee Beans
Certified by the Rainforest Alliance, try our Miceli 80-20 Coffee Beans. This specially selected blend of Arabica and Robusta coffee beans are carefully roasted by hand, and make a stylish espresso.
Looking for a one-stop shop for all of your coffee shop needs? Do it Simply! As well as these coffee beans, we have a huge range of Simply Syrups (plus sugar free and organic), toppings, sauces, iced teas, chai lattes and more! Create your own flavour combinations for a unique offering, or talk to our team to create a popular menu.
Suitable for vegans
Suitable for Halal.

DIRECTIONS FOR USE

INGREDIENTS

Roasted Coffee Beans

Caffeine content – 900mg per 100g. (63mg per 7g shot)

ALLERGEN ADVICE

TYPICAL NUTRITIONAL VALUES (PER 100G)

| | | |
| --- | --- | --- |
| Energy | 37 | kJ/100g |
| Energy | 9 | kcal/100g |
| Total fat | 0.0 | g/100g |
| Saturated fats | 0.0 | g/100g |
| Total carbohydrates | 0.1 | g/100g |
| Of which sugars | 0.0 | g/100g |
| Protein | 0.1 | g/100g |
| Salt | 0.0 | g/100g |

Storage instructions

Storage instructions: Store in dry, cool ambient conditions, away from heat sources and odorous materials.
After opening: Keep in a closed container, away from direct sunlight and
strong odours and at ambient temperature.
Shelf life after opening: 6 months

Available packaging

1kg bags, 8 bags per case
You May Also Like