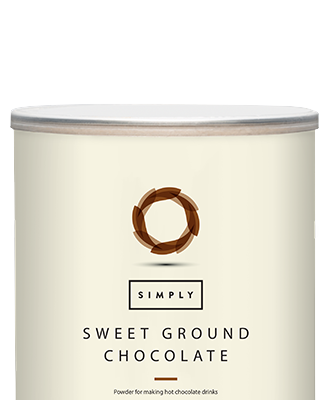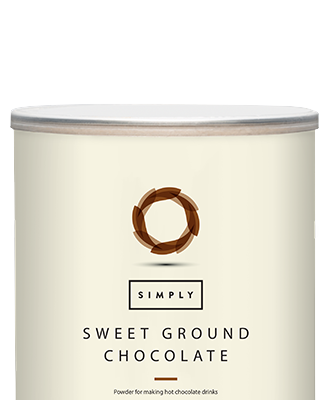 Simply Sweet Ground Chocolate Powder
Perfect for any sweet-tooth, Simply Sweet Ground Chocolate Powder will put a sugary smile on your face. Sweeter than our other drinking chocolates, this is an American classic and makes for a great cup of hot cocoa!
Our range of Simply Drinking Chocolates are easy to use and are a great way to warm up during the colder months. Decadent and flavourful, our drinking chocolates are fantastic on their own and mix beautifully with our syrups too. Create your own custom hot chocolate to match how rich you like the chocolate and how sweet you like any extra flavours.
Suitable for Vegetarians.


DIRECTIONS FOR USE

Dissolve 25g into 200ml of hot/steamed milk.

INGREDIENTS

Sugar, Fat reduced cocoa powder, Cocoa powder, Chocolate powder (Fat-reduced cocoa powder, Sugar, Cocoa mass, Soya Lecithin (E322), Natural vanilla flavouring), Flavouring, Stabiliser (Xanthan gum).

ALLERGEN ADVICE

Allergens show in Bold. Contains Soya.

May contain Milk.

NUTRITIONAL INFORMATION

| | | |
| --- | --- | --- |
| Energy | 1622 | kJ/100g |
| Energy | 387 | kcal/100g |
| Total fat | 4.0 | g/100g |
| Saturated fats | 2.3 | g/100g |
| Total carbohydrate | 76.7 | g/100g |
| Of which sugars | 73.0 | g/100g |
| Protein | 5.7 | g/100g |
| Salt | 0.05 | g/100g |

STORAGE INSTRUCTIONS

Storage instructions: Store in dry, cool ambient conditions, away from heat sources and odorous materials. Storage temperature: 12 – 20 °C
After opening: Once open, store in a airtight container and in a cool
dry area away from direct sunlight.
Shelf life after opening: 6 months

AVAILABLE PACKAGING

2kg tub, 4 tubs per a case.
13.63kg bag.
Buy now at
Simply Sweet Ground Chocolate Powder 2Kg
Buy NOw
You May Also Like