CATEGORIES
Please tick one or more of the options below to filter your search.
Make Coffee Shop Style Drinks at Home
These are challenging times for everyone, and we know lots of people will be missing getting their daily dose of caffeine or their other coffee shop favourite from their local cafes and restaurants.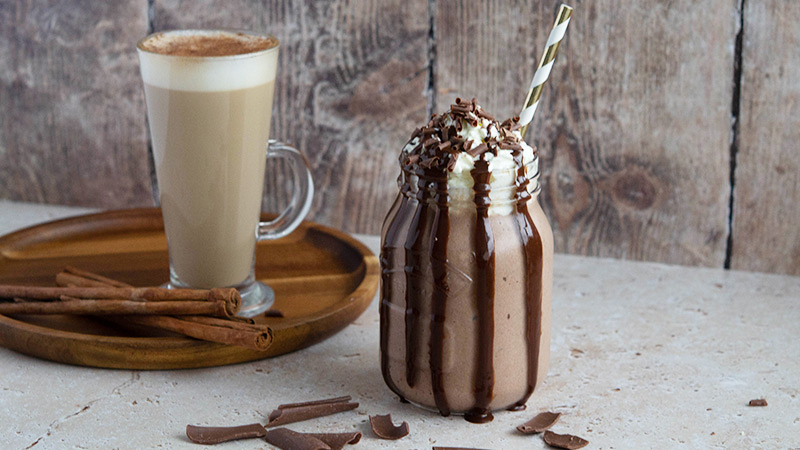 Support local if you can
First and foremost, if you can still support your local coffee shops by ordering take out we encourage you to support local businesses in this way. However, please ensure you adhere to government guidelines to help protect our communities, if you're unwell stay home, and remember to enforce social distancing.
If you're self-isolating and unable to get a take-away order, then create your own barista style station at home! You don't need a fancy coffee machine to enjoy your favourite salted caramel latte or to make an ice cold frappe with your favourite flavours. We're here to help!
Available on Amazon
The majority of our products are all available to order directly on Amazon. If you'd like to create your own barista and coffee shop style drinks at home why not head to Amazon and search your favourite Simply product.
How to make a flavoured latte at home
You don't need a milk frother or a coffee machine to still make great tasting coffee. We know everyone at home has different ways of making their coffee, whether it's a good old fashioned kettle and coffee grounds, coffee pods in your machine, or a cafetière or moka pot. With over 70 vegan syrups to choose from your options are endless!
Make your coffee in your preferred method
Warm your milk, use a pan or a microwave to heat the milk. If you want to use a small whisk or a hand frother to add some air to the milk and make it light and frothy then go for it!
Add a Simply syrup of choice to your coffee – we recommend 15ml which is a tablespoon of syrup
Add your milk and stir
There you have it your favourite flavoured latte!
Download our guide to how to make the perfect latte
How to make a frappe at home
Our frappe powders mean you can easily make your own frappe at home. All you need is a blender, some, ice and milk.
Add 140ml Milk, 2 scoops (50g) of Vanilla Frappe Powder and 1tbsp of Simply Syrup of choice to a blender
Add a cup full of ice to blender
Blend for 30 seconds
Pour blender contents into cupWe recommend our Vanilla Frappe Powder as it's so versatile when used with our Simply syrups, and you can always add a shot of coffee if you want to make a coffee flavoured frappe too. If you want more choice though check out our range of Frappe Powders.
Download our guide how to make the perfect frappe
Ice cold drinks
Just add water and serve over ice
Let's hope the weather warms up and we can at least enjoy some ice cold refreshing drinks in the garden! At IBC Simply HQ we all love our iced teas and cooler syrup range too, our favourites:
To order head to Amazon and search Simply Syrups or your favourite Simply product