CATEGORIES
Please tick one or more of the options below to filter your search.
Introducing our Garden Range…
Simply Garden Range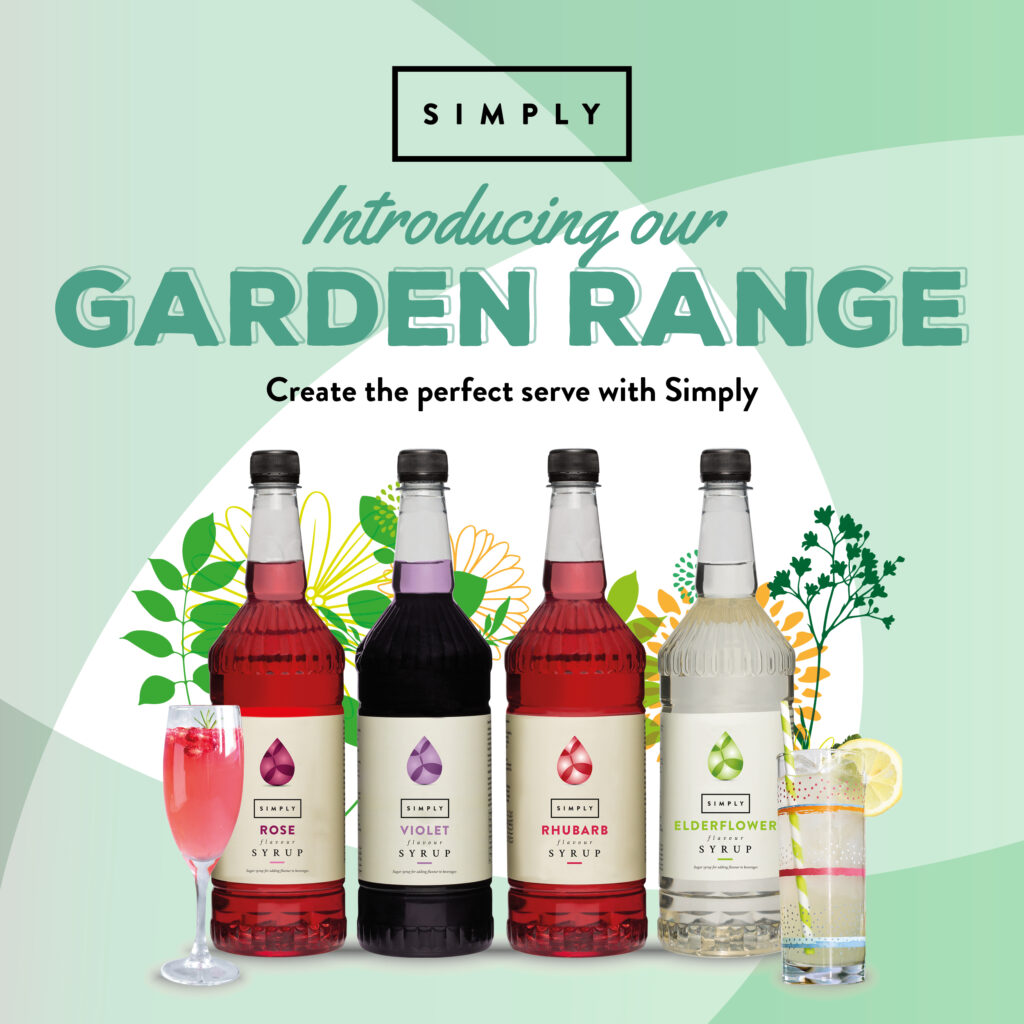 We've created some taste tingling new syrup flavours for our garden range. Elderflower, Rhubarb, Rose and Violet are all popular flavours, and are very versatile for combining in a range of drinks.
Add your own garden twist to cocktails, gins, vodka and more or create refreshing sodas, lemonades and alcohol-free cocktails. Evocative of the English countryside these flavours are perfect for pairing with fruit and herbs as an extra garnish to create beautiful drinks.
Create a summer menu customers can't resist!
Add these four garden range flavours to refreshing frappes, combine them with freeze-dried fruits in some of our favourite drinks, such as our Traditional Lemonade or take your menu from day to night with adding a pump of these to Prosecco; making perfect Summer Sparklers!
Order the range today: 
Here's some of the team's favourite combinations:
Scott's Rose Alcohol-Free G&T
Add a 25ml shot of non-alcoholic gin, one shot (25ml) of Simply Rose Flavoured Syrup over ice, top with a quality tonic, stir and serve with a slice of lime and a sprig of rosemary
Dan's Rhubarb Lemonade
Add 3 pumps (22.5ml) of Simply Rhubarb Flavour Syrup to a glass of Simply Traditional Lemonade, add a slice of fresh lemon, stir and serve with a sprig of mint
Kate's Elderflower Fizz
Add 1 pump (7.5ml) of Simply Elderflower Flavour Syrup to a fluted glass, add some Simply Freeze Dried Strawberries, top with prosecco, stir and serve
Stacey's Unicorn Frappe
Add 200ml of milk, 2 pumps (15ml) of Simply Violet Flavour Syrup, a cup of ice, 2 x of Vanilla Frappe Powder to a blender. Blend for 30 seconds. Whilst blending decorate the cup with Simply White Chocolate Luxury Sauce, and top with whipped cream, raspberry sauce, and non-pareils!
See our recipe ideas.