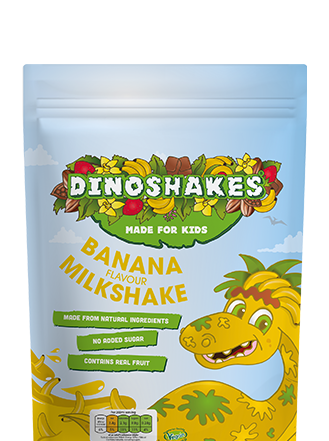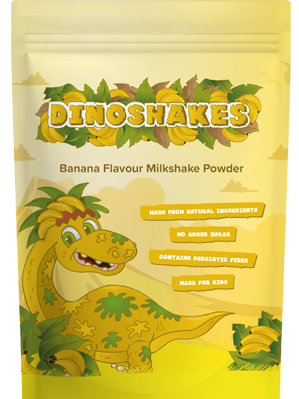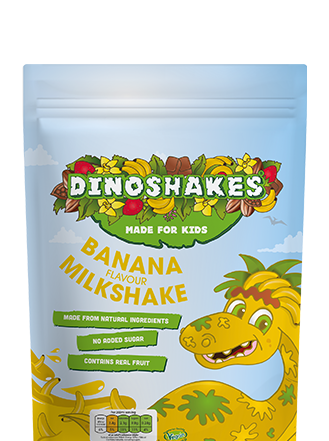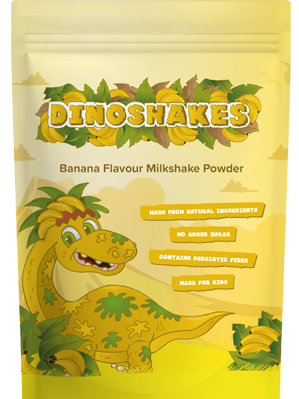 Dinoshakes Banana Milkshake Powder
Dinoshakes milkshakes are made for Kids! High fibre and all natural ingredients, they're full of the good stuff. This Banana Milkshake powder is creamy and delicious, and perfect treat for children!
Suitable for vegans
Halal certified


We also offer a Dinoshakes Starter Kit which includes branded cups, lids, straws, POS and optional Milkshake Mixer.
You can see more including our Dinoshakes Point of Sale pack  on www.dinoshakes.com
DIRECTIONS FOR USE

Add 7.5g to 180ml of milk or milk alternative and either whisk by hand or with a handheld milk frother for 30 seconds.

INGREDIENTS

Inulin, Natural flavourings, Thickener: Locust bean gum, Banana powder (2%), Colour: Annatto

ALLERGEN ADVICE

NUTRITIONAL INFORMATION

| | | |
| --- | --- | --- |
| Energy | 861 | kJ/100ml |
| Energy | 212 | kcal/100g |
| Total fat | 0.0 | ml/100ml |
| of which saturates | 0.0 | ml/100ml |
| Total carbohydrates | 12.7 | ml/100ml |
| of which sugars | 8.9 | ml/100ml |
| Protein | o.3 | ml/100ml |
| Salt | 0.19 | ml/100ml |

STORAGE INSTRUCTIONS

Storage instructions: Store in dry, cool ambient conditions, away from heat sources and odorous materials.
After opening: Reseal Pack
Shelf life after opening: 6 months

AVAILABLE PACKAGING

250g, 12/6 x a singular flavour case
1kg, 2 x pouch
Buy now at
Dinoshakes Banana Milkshake Powder 250g
Buy NOw
You May Also Like