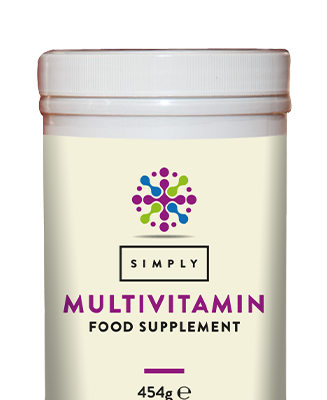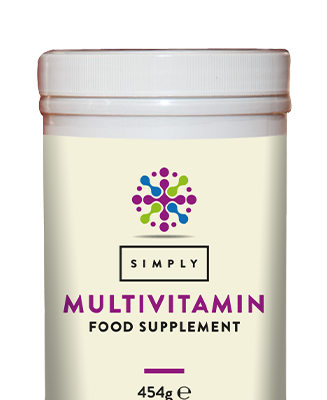 Simply Multi Vitamin Blend
Enhance your health easily with Simply Multi Vitamin Blend. Packed full of a range of vitamins and minerals, this powdered blend is a great way to ensure you're getting in all those nutrients. This is a great choice to add to a protein shake or smoothie for an extra boost.
Our range of Simply Supplement Boosts are sure to add some pep to your step. With absolutely no flavour, colour or odour, your healthy choices won't change the taste of anything you add these supplements to. Combine these boosters with a balanced diet and exercise for a well-rounded healthy lifestyle.
Suitable for vegetarians


DIRECTIONS FOR USE

Add 1 level scoop (6g) to a 500ml smoothie, frappe or juice. May also be used in food.

INGREDIENTS

Maltodextrin, Vitamin and Mineral Premix (Magnesium Sulphate, Tri-Calcium Phosphate, Calcium Carbonate, Vitamin C (Ascorbic Acid), Vitamin E (Dl-Alpha- Tocopherol), Nicotinamide, Ferrous Fumarate, Vitamin B5 (Calcium D-Pantothenate), Vitamin A (Retinyl Acetate), Vitamin B12 (Cyanocobalamin), Vitamin B2 (Riboflavin 5-phosphate), Vitamin D3 (Cholecalciferol), Vitamin B6 (Pyridoxine Hydrochloride), Vitamin K, Thiamine, Zinc Sulphate Monohydrate, Folic Acid (Folacin), Biotin, Potassium Iodide).

| | | | |
| --- | --- | --- | --- |
| Vitamins and Minerals | Per 100g | Per 6g serving | %NRV per 6g serving |
| Vitamin A (μg) | 8771.0 | 526.3 | 66% |
| Vitamin D (μg) | 54.8 | 3.3 | 66% |
| Vitamin E (mg) | 131.3 | 7.9 | 66% |
| Vitamin K (μg) | 825.0 | 49.5 | 66% |
| Vitamin C (mg) | 2661.7 | 159.7 | 200% |
| Thiamin (mg) | 12.2 | 0.7 | 66% |
| Riboflavin (mg) | 15.5 | 0.9 | 66% |
| Niacin (mg) | 175.1 | 10.5 | 66% |
| Vitamin B6 (mg) | 15.4 | 0.9 | 66% |
| Folic acid (μg) | 2192.7 | 131.6 | 66% |
| Vitamin B12 (μg) | 27.3 | 1.6 | 66% |
| Biotin (μg) | 548.6 | 32.9 | 66% |
| Pantothenic acid (mg) | 65.6 | 3.9 | 66% |
| Calcium (mg) | 1295.9 | 77.8 | 10% |
| Phosphorus (mg) | 551.5 | 33.1 | 5% |
| Magnesium (mg) | 551.5 | 56.0 | 15% |
| Iron (mg) | 41.1 | 2.5 | 18% |
| Zinc (mg) | 29.0 | 1.7 | 17% |
| Iodine (μg) | 415.2 | 24.9 | 17% |

ALLERGEN ADVICE

No allergens present.

Manufactured on equipment that also handles Soy, Milk, Egg and Cereals containing Gluten.

CAUTIONARY / ADVISORY STATEMENT

Do not exceed the recommended daily intake of 1 dose (5g total).
Keep chilled and consume within 3 hours once mixed.
If you are pregnant, breastfeeding, taking any medication or under medical supervision, please consult a doctor or healthcare professional before use.
Food supplements should not be used as a substitute for a varied, balanced diet and healthy lifestyle.
Keep out of reach of children.

TYPICAL NUTRITIONAL VALUES (PER 100G)

| | | |
| --- | --- | --- |
| Energy | 1349 | kJ/100g |
| Energy | 322 | kcal/100g |
| Total fat | 0.0 | g/100g |
| Saturated fats | 0.0 | g/100g |
| Total carbohydrate | 80.6 | g/100g |
| Of which sugars | 4.2 | g/100g |
| Protein | 0.0 | g/100g |
| Salt | 0.00 | g/100g |

STORAGE INSTRUCTIONS

Storage instructions: Store in dry, cool ambient conditions, away from heat sources and odorous materials
After opening: Keep in a airtight container and store in a cool dry area away from direct sunlight.
Shelf life after opening: 3 months

AVAILABLE PACKAGING
Buy now at
Simply Multi Vitamin 454g
Buy NOw
You May Also Like