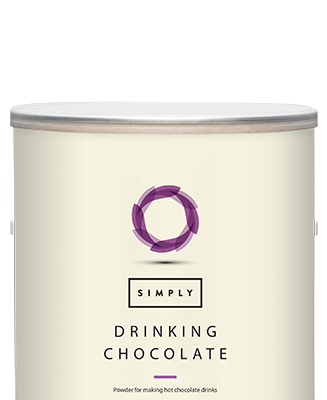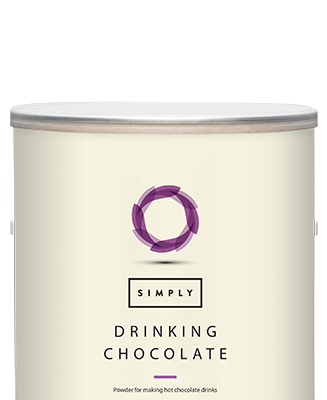 Simply Drinking Chocolate Powder
Our vegan Simply Drinking Chocolate is perfect for making luxurious and creamy hot chocolates. Mix with Simply Syrups to create different seasonal favourites from honeycomb to mint hot chocolates. Top with whipped cream and a choice of Simply Toppings for the extra finishing touch.
Suitable for Vegans.
Suitable for Halal.

DIRECTIONS FOR USE

Dissolve 25g into 200ml of hot milk.

Customise the flavour by adding pumps of our syrups. Why not try our Red Velvet syrup?

INGREDIENTS

Sugar, Cocoa Powder (25%)

ALLERGEN ADVICE

NUTRITIONAL INFORMATION

| | | |
| --- | --- | --- |
| Energy | 1670 | kJ/100g |
| Energy | 395 | kcal/100g |
| Total fat | 5.3 | g/100g |
| Saturated fats | 3.2 | g/100g |
| Total carbohydrate | 78.0 | g/100g |
| Of which sugars | 75.5 | g/100g |
| Protein | 5.5 | g/100g |
| Salt | 0.01 | g/100g |

STORAGE INSTRUCTIONS

Storage instructions: Store in dry, cool ambient conditions, away from heat sources and odorous materials.
After opening: Once open, store in a airtight container and in a cool dry area away from direct sunlight.
Shelf life after opening: 24 months

AVAILABLE PACKAGING

1kg bags, 4 bags per a case
1.8kg tub, 4 tubs per a case
2kg tub, 4 tubs per a case
Buy now at
Simply Drinking Chocolate Powder 1kg
Buy NOw
You May Also Like