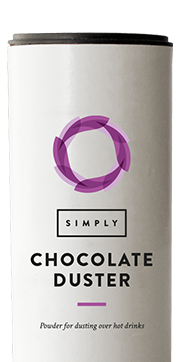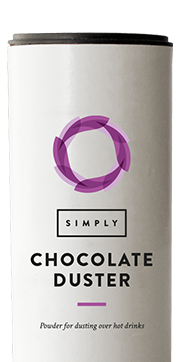 Simply Chocolate Duster
Complete your drinks and desserts with Simply Chocolate Duster. Hot chocolates and lattes are perfectly completed with a dusting of chocolate over whipped cream. A sprinkling of chocolate dust is great over frappes, milkshakes and sweet treats too.
Our extensive range of Simply Toppings are the perfect way to complete any beverage or dessert. Use on top of ice cream, whipped cream, overnight oats and cake, or on the rim of your cup for a freakshake vibe. Mix and match across the whole selection and garnish to your heart's content.
Suitable for vegans
Suitable for Halal

SIMPLY TOP TIPS

Use a stencil to dust this over lattes, or sprinkle freely over whipped cream on hot chocolates. You can even use this to dust chocolate over tiramisu, cheesecakes and more!

DIRECTIONS FOR USE

Dust over surface of drink or dessert as required.

INGREDIENTS

Sugar, Cocoa Powder (25%).

ALLERGEN ADVICE

TYPICAL NUTRITIONAL VALUES (PER 100G)

| | | |
| --- | --- | --- |
| Energy | 1670 | kJ/100g |
| Energy | 395 | kcal/100g |
| Total fat | 5.3 | g/100g |
| Saturated fats | 3.2 | g/100g |
| Total carbohydrate | 78.0 | g/100g |
| Of which sugars | 75.5 | g/100g |
| Protein | 5.5 | g/100g |
| Salt | 0.01 | g/100g |

STORAGE INSTRUCTIONS

Storage instructions: Store in dry, cool ambient conditions, away from heat sources and odorous materials. Storage temperature: 12 – 20 °C
After opening: Once open, store in a airtight container and in a cool
dry area away from direct sunlight.
Shelf life after opening: 6 months

AVAILABLE PACKAGING

300g tub, 2 tubs per a pack
Buy now at
Simply Chocolate Duster 800g
Buy NOw
You May Also Like