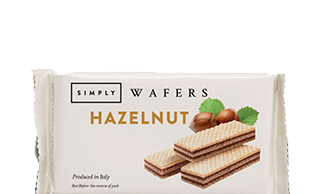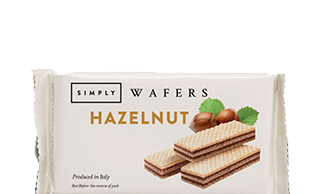 Simply Hazelnut Wafers
Enjoy our Simply Hazelnut Wafers as an afternoon snack alongside a decaf coffee. Crumbly wafer biscuit and a creamy hazelnut filling are a fantastic combination. Great alongside a hazelnut latte or cappuccino, our hazelnut wafers can also be enjoyed as a treat on their own.
Our range of Simply Wafers are premium snacks, made using the highest quality raw ingredient. The perfect bite-sized accompaniment to your afternoon or dessert coffee, these wafers are also great on top of desserts or overnight oats.
Suitable for vegetarians
Halal certified



DIRECTIONS FOR USE

INGREDIENTS

Wheat flour, Vegetable oil (coconut), Wheat starch, Sugar, Dextrose, Hazelnut (7% in the cream), Skimmed Milk powder, Whey powder (Milk), Soy flour (Soya), Fat reduced cocoa powder, Emulsifier: Soya lecithin, Salt, Raising agent: Sodium bicarbonate, Natural flavouring.

ALLERGEN ADVICE

Allergens shown in bold. Contains Wheat, Milk, Soya and Hazelnut.

May contain traces of other types of Nuts and Mustard.

TYPICAL NUTRITIONAL VALUES (PER 100G)

| | | |
| --- | --- | --- |
| Energy | 2156 | kJ/100g |
| Energy | 515 | kcal/100g |
| Total fat | 27.0 | g/100g |
| Saturated fats | 24.0 | g/100g |
| Total carbohydrates | 62.0 | g/100g |
| Of which sugars | 24.0 | g/100g |
| Protein | 5.4 | g/100g |
| Salt | 0.33 | g/100g |

Storage instructions

Storage instructions: Store in dry, cool ambient conditions, away from heat sources and odorous materials.
After opening: Store in a sealed container, in a cool, dry place away from direct sunlight.
Shelf life after opening: 4 days.

Available packaging

45g per packet, 20 packets in a box
Buy now at
Simply Hazelnut Wafers 45g
Buy NOw
You May Also Like