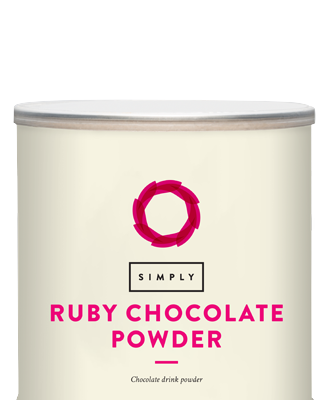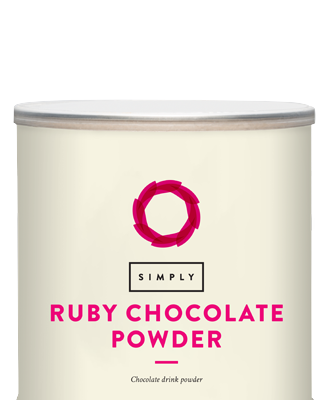 Simply Ruby Chocolate Powder
Make sure you don't miss the trend, try our Simply Ruby Chocolate Powder. Rich in colour and taste, this pink powder makes a delicious drink that needs a place on your menu. The blend of berry and chocolate flavours in ruby chocolate powder will be loved by everyone, not just sweet-tooths!
Our range of Simply Drinking Chocolates are easy to use and are a great way to warm up during the colder months. Decadent and flavourful, our drinking chocolates are fantastic on their own and mix beautifully with our syrups too. Create your own custom hot chocolate to match how rich you like the chocolate and how sweet you like any extra flavours.
Suitable for vegetarians
Suitable for Halal


SIMPLY TOP TIPS

Make a delicious romantic drink for Valentine's Day by drizzling strawberry sauce down the sides of the cup, plus whipped cream, freeze-dried strawberries, white chocolate curls and more sauce for toppings!

DIRECTIONS FOR USE

Add 34g of powder to 200ml hot/steamed milk to make a hot chocolate or use cold milk and ice to make a delicious frappe!

Get inspiration from our recipes.

INGREDIENTS

Sugar, Couverture chocolate 20% (Sugar, Cocoa butter, Whole milk powder, Cocoa mass, Emulsifier: Soya lecithin, Acid: Citric acid, Natural flavouring), White chocolate [Cocoa butter, Skimmed milk powder, Stabiliser: Diphosphates], Whey powder (Milk), Coconut oil, Colour: Beetroot red, Skimmed milk powder, Salt, Milk proteins, Flavourings, Acid: Citric acid, Stabilisers: Triphosphates.

ALLERGEN ADVICE

Allergens show in Bold. Contains Milk and Soya.

TYPICAL NUTRITIONAL VALUES (PER 100G)

| | | |
| --- | --- | --- |
| Energy | 1985 | kJ/100g |
| Energy | 475 | kcal/100g |
| Total fat | 18.7 | g/100g |
| Saturated fats | 13.5 | g/100g |
| Total carbohydrate | 70.5 | g/100g |
| Of which sugars | 65.5 | g/100g |
| Protein | 5.3 | g/100g |
| Salt | 1.09 | g/100g |

STORAGE INSTRUCTIONS

Storage instructions: Store in dry, cool ambient conditions, away from heat sources and odorous materials.
After opening: Once open, store in a airtight container and in a cool
dry area away from direct sunlight.
Shelf life after opening: 12 months

AVAILABLE PACKAGING

1kg compostable tin, 4 tins per case. Tins come with a scoop.
Buy now at
Simply Ruby Chocolate Drinking Powder 1kg
Buy NOw
You May Also Like