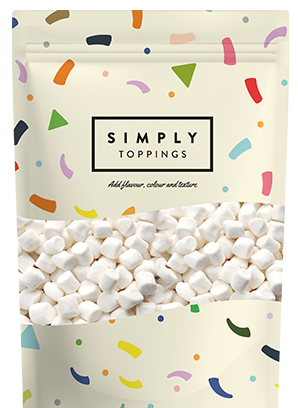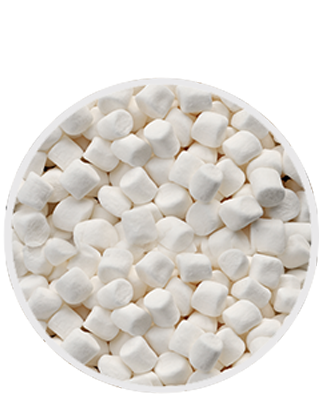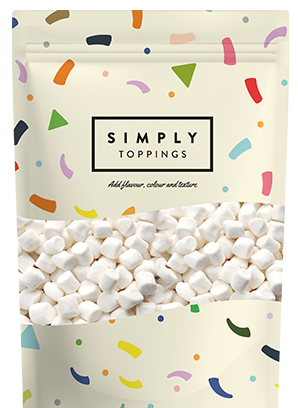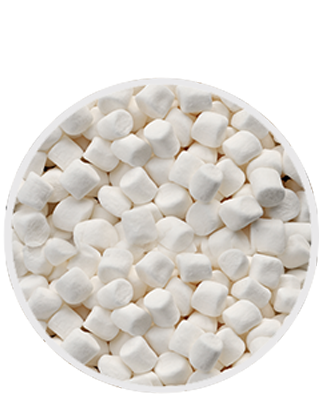 Simply Mini White Marshmallows
Perfect for topping any sweet treat, Simply Mini White Marshmallows are sugary, soft and delicious. This nostalgic option is great on top of cupcakes, hot chocolates, frappes and cookies. If you have a blowtorch handy, try toasting your marshmallows for a s'mores inspired beverage.
Our extensive range of Simply Toppings are the perfect way to complete any beverage or dessert. Use on top of ice cream, whipped cream, overnight oats and cake, or on the rim of your cup for a freakshake vibe. Mix and match across the whole selection and garnish to your heart's content.
Suitable for Halal
DIRECTIONS FOR USE

INGREDIENTS

Sugar, Corn syrup, Water, Dextrose, Beef gelatin (Halal), Corn starch, Flavourings

ALLERGEN ADVICE

TYPICAL NUTRITIONAL VALUES (PER 100G)

| | | |
| --- | --- | --- |
| Energy | 1407 | kJ/100g |
| Energy | 331 | kcal/100g |
| Total fat | 0 | g/100g |
| Saturated fats | 0 | g/100g |
| Total carbohydrates | 78.8 | g/100g |
| Of which sugars | 58.5 | g/100g |
| Protein | 3.5 | g/100g |
| Salt | 0.01 | g/100g |

Storage instructions

Storage instructions: Store in dry, cool ambient conditions, away from heat sources and odorous materials.
After opening: Store in a sealed container, in a cool, dry place away from direct sunlight.
Shelf life after opening: 24 months.

Available Packaging
Buy now at
Simply Mini Marshmallows 1kg (Pack of 2)
Buy NOw
You May Also Like