CATEGORIES
Please tick one or more of the options below to filter your search.
Your Easy Peas-y 2022 Vegan Trends Guide
There may not be any peas hidden in this blog, but it hasn't stopped us from being hap-pea-er than ever to see Veganuary becoming bigger and better!
With more than a 200% increase in Veganuary sign ups in the last 3 years, now has never been a better time to get your vegan option down to a T.
Flexi-what?
The new dietary label to keep your eyes peeled for in 2022 is 'reducetarianism' according to Whole Foods Market's latest trends council. This new term is being used to describe people who are open to trying plant-based products and recipes but aren't fully ready to cut out animal products entirely. The flexitarian diet has been embraced by many in 2021 and is forecasted to grow further in the coming year so offering more vegan alternatives for customers to try is a great way to feed the plant-curious eaters!
Got Potato Milk?
In a recent Mintel poll, 44% of those aged between 25 and 44 said they are now drinking a plant-based milk. This is an amazing increase of 25% since 2020.
It has also been reported by Nielsen that growth of the all mighty oat milk has seen a 212% increase of all products sold since the pandemic started.
But there seems to be a new milk in town… It is predicted that potato milk will become the new top plant milk, especially in the UK for 2022. This milk is claimed to be better for you and the planet, with growing potatoes twice as land efficient as growing oats. Plus, its free from common allergens such as nuts, lactose, and gluten.
If there is one thing the British public love, it is finding another way to enjoy the humble potato.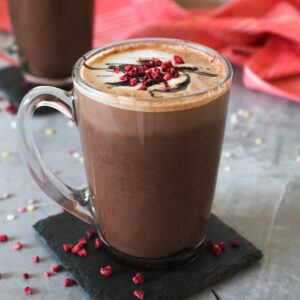 Feeling a bit sceptical? Stick to your favourite plant-based milk alternative, but keep a keen eye on your go-to brands. We have a feeling potato milk will be on shelves sooner than you think. Some recipes that you can make the easy swap on milk are:
Immunity Boosters
The sad truth is we are all now firmly living with COVID-19 in our lives. So, consumers looking to boost their health by making small and mighty changes to their diets (especially in the colder months of January!) is no surprise. An estimated 75% of consumers are aiming to eat and drink healthier due to the pandemic. By adding functional vegan-friendly vitamin boosters and natural energy sources into drinks can do just that.
Antioxidant – This booster contains the amazing combination of Vitamins A, C and E . Vitamins such as these can help to contribute to normal function of the immune system & the maintenance of normal hair & nails. This flavourless powder can be added to smoothies or plant-based milkshakes.
Energy Blend – Kick-start your energy levels with vitamins B6 and B12. As many vegans need to take B12 supplements, advertising this booster in drinks shows customers you've got their heath in mind.
Matcha Green Tea Blend – this natural energy booster not only makes for a tasty stand-alone drink but a fabulous addition to any baking, smoothies or frappes.
New Year, New Drinks Category
The rapid rise of no and low alcohol spirits, wines, and beers has gone hand in hand with the nations new healthy habits. 18% of consumers have chosen to continue the no/low lifestyle from lockdowns onwards, with this trend predicted to grow even more next year. However, those who are drinking are looking for something a little different, with a growing interest in bittersweet and spiced flavours. As Dry January approaches, people are likely to turn to flavourful and fun mocktail recipes as that extra treat during the week to keep them off the booze. Some of our favourite vegan friendly mocktails include:
Woo Woo – made with 15ml grenadine syrup, 7.5ml blue curacao and topped with diet lemonade!
Mulled fruits – the trendier sister of mulled wine. Our mulled fruit winter warmer is spiced to perfection and contains zero alcohol.
For the month of January follow us on social media @IBCSimply as we will be sharing  all our best vegan recipes throughout the chilly weeks. From smoothies to winter warmers, you won't want to miss our new vegan friendly announcements!